For those who want to see the basic process for creating a piece of jewelry, here is a chronicle through the creation of a necklace pendant.
First a brass blank was selected to put my design on. I had an idea about a "drop" of metal with a stone inset at the bottom of the drop. I drew a stylized drop on paper and then cut a brass blank that would be larger than the drawing. The blank was 2 x 6 cm. I cleaned the blank of oxidation.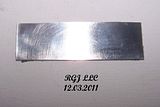 Metal Blank (Brass)
My next step was to "glue" my paper design onto the metal blank with a rubber type glue. This makes it easy to remove the paper after cutting the shape from the metal blank.
Paper Design on Metal Blank




The next basic step is to cut the pattern from the metal. For this a jeweler's saw with a 5-0 blade was used. Bur-Life applied to the blade, then the pattern was cut on my bench pin. Now we have a rough cut pattern and need to pierce the round hole at the end of the pattern for the stone to be set in. I selected a 9 mm 2.4 carat round rutilated quartz stone then cut a 7 mm hole in the bottom of the pendant.
Rough Cut Pendant
Filing, a little dapping with an 8 mm punch, and hand polishing with red rouge completes the creation of the basic pendant. The stone is set into the hole that was pierced in the metal and the pendant is complete and ready to go to the shop.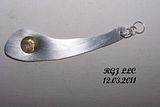 Finished Pendant
Here is the piece with a glossy finish from the polishing that gives the metal a silvery tone. Of course, I started this project with a brass blank, so this is not marked or marketed as being silver. This entire project was completed with cold working of the metal.
The shop will be at a "fleamarket" next Saturday. Locally we have a bike trail that is rather long. The fleamarket will be at mile marker 31.5 at the Swamp Rabbit Cafe and Grocery store (205 Cedar Lane Road, Greenville, SC). Anyone in the area is invited to drop by and say hello.