I decided to take a bit of a walk on the wild side. I was looking at a quartz cabochon in my inventory and decided to use both copper and fine silver to make a bezel setting for this stone. In order to show the internal flawless condition, I wanted the back of the pendant to be open. This cabochon is so clear and cut so it works like a magnifying glass.
I traced around the cab on a sheet of 23 gauge copper with my carbide scribe, then using a divider scribed a line 2 mm outside the cab marking. Cutting out the oval and then piercing out the inside oval gave me a ring about 2 mm wide. Chasing widened this a little and then I had a shelf to put my cab on in the bezel.
Next was the forming of the bezel wrap with fine silver. This was done, sawn, and soldered with hard silver solder.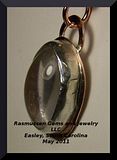 Fashioning the bail for the top of the pendant was done with an 18 gauge copper jump ring chased on my anvil and provided a flat ring that was soldered to the back of the oval.


The bezel was then soldered with easy solder to the front of the copper oval. Pickled and polished the setting, then put the cabochon in place and burnished the bezel wire. This produced an extremely unique and beautiful pendant for either a silver or copper chain to make a necklace.
This and other artisan jewelry pieces that I have made can be found in my online shop. Please stop by and look at your leisure.